Shared Pulpit: A Sermon Seminar for Lay People
Li Kynvi is running a hybrid small group (both virtual and in person, simultaneously) working with anyone interested in writing your own reflection/sermon. Join in person or on Zoom! We'll be using the book The Shared Pulpit: A Sermon Seminar for Lay People.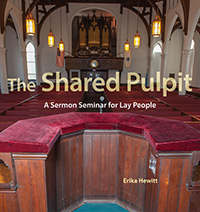 We will meet in the Vestry of First Parish Church of Groton, 1 Powderhouse Road, Groton. The Vestry is the large room on the ground floor of the church building. (If you're new, you'll come up a wee hill on Powderhouse Road. The church will be on your left; the Vestry door is the first door on the side of the church. We'll prop it open in good weather. You can park in the parking lot at the top of the hill, or around back.)
The Vestry has a good air exchange system & windows will be open, weather permitting. Masks recommended, not required. If there's someone who's only able to attend if we all mask, we will honor that. Please don't come in person with COVID symptoms or a recent close-contact exposure.